NHS Clothing (No Text)
See below all of our NHS Wales, NHS England & NHS Scotland Staff Uniform.
For all bulk orders & queries please contact us at info@wipeoutcreations.com . Our custom embroidery is second to none, we use top of the range thread & machinery.
Due to high demand, we now supply our popular NHS Wales, England & Scotland clothing without personalised text. All of the embroidery is done in house making sure it's of the highest quality.
NHS Uniform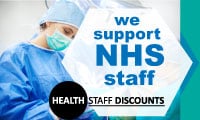 When looking for NHS Uniforms Wipeout Creations offer an excellent range of medical uniforms to cater for everyone from nurses to doctors. All NHS uniforms are embroidered with the NHS Wales logo. We are trusted by thousands of nurses across the country. We are also on the suppliers list for the NHS & supply orders of personalised clothing to departments across England, Wales & Scotland. We take pride in every NHS Uniform that leaves our premises & make sure it's of the highest quality.
Showing: 1-8 of 8 Results